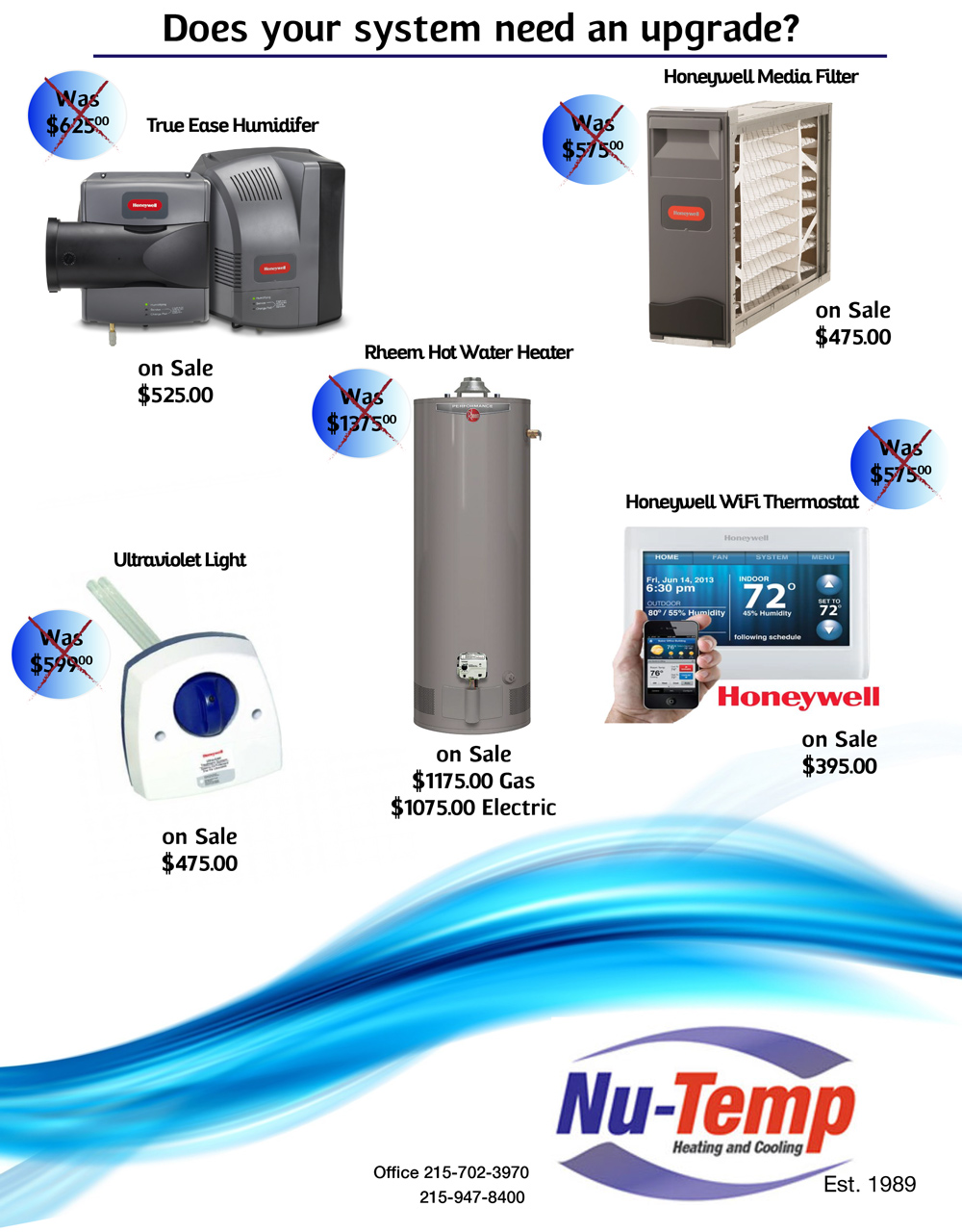 Call (215) 702-3970 Now
Honeywell Humidifier:
True Ease HE100+HE200 Series humidifiers are some of the bestin the market. Humidifiers bring down the cost of running your heat. It helps eliminate dry throats and bloody noses while also helping to keep wood floors and furniture from drying out and splitting. Sleep 100% better with a quality made user friendly Honeywell humidifier.
UV Light (Honeywell):
Mold and bacteria can thrive in a variety of conditions, as well as easily spread through a home from your heating and cooling system. Just like washing your hands before you eat, UV lights help clean the air before breathing it in. It will help disinfect and prevent the spread of germs, viruses, and mold that you may be breathing with supplied air from your home's ductwork.
Honeywell Media Filters:
Honeywell whole house media filters scrub the air in your house. They capture up to 40 times more airborne particles that are passing through your existing one inch filter. These filters combat against dust, dander, and dust mites. A must for allergy seasons.
Honeywell Wifi Thermostat:
Honeywell thermostats are the #1 choice of homeowners and contractors. Homeowners will enjoy the ease of use, accurate temperature controls and energy savings. Control your home temperature from anywhere with your cell phone. This is a must have for lowering electric bills and homeowners on the go.
Rheem Hot Water Heaters:
If your hot water heater is 10 years old or more, it's time to get that ticking time-bomb out of your house. Hot water heaters are only meant to last on average 10 years. They work 24 hours a day, everyday to heat your home's water supply. When these tanks leak, they can leak without warning. Hundreds of gallons of water could fill your basement in no time at all. The price to replace your water heater before it fails is only a faction of the potential costs of mold remediation and water damage. Consider getting a 40 gallon gas or electric hot water heater before it's to late. If you're unsure the age of your hot water heater, ask your technician to show you where its located on your tank. Our technicians will happily explain the benefits of a high efficiency hot water heater.
**All prices for products are listed as the installed price, with included labor and removal of existing equipment. For more than one item needed or larger systems please ask our technicians for assistance and pricing, or call our office at (215)702-3970 for more details.