A boiler is a heating unit that can be configured to burn natural gas, propane, oil or electric to fuel the system that heats your home. This allows for a durable long lasting solution to heat your home. We service boilers throughout Bucks and Montgomery County.
For your next boiler repair or cleaning:
Call (215) 702-3970 Now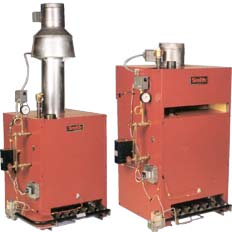 Most residential gas boilers don't actually boil water – they just heat it. The hot water is then pumped into radiators, under-floor tubing, or to a heat exchanger. Wall-mounted radiators and hot water baseboards use their boiler-supplied hot water to warm rooms by radiation and convection. A gas boiler can also supply a forced-air heating system with hot water needed for its heat exchangers.
Your boiler is the heart of your facility and requires experienced, highly skilled technicians to handle any work.
If you want it done right, with maximum safety levels by people who know what they're doing, then you want Nu Temp Heating and Cooling on the job.