Avoiding the Dangers of Frozen Pipes This Winter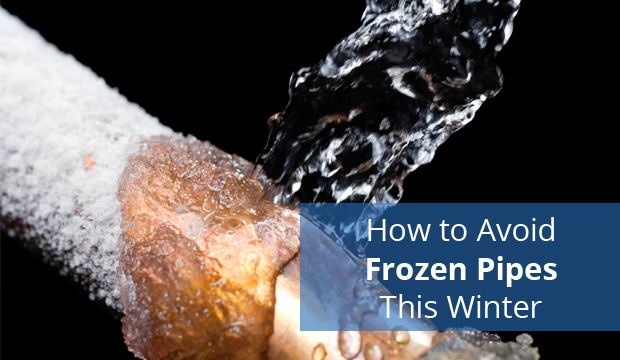 As the last days of fall turn into early winter, we have already seen some below-freezing temperatures in the Philadelphia area. Anyone who lives along the East Coast is well aware of the common problems that can occur when the temperatures drop sharply during winter. You may have already put snow tires on your car or bought a fresh supply of de-icer in anticipation of snow and ice. But smart property owners also take proactive steps to protect their homes from common cold-weather nightmares. Here are six home maintenance tips to protect your pipes from freezing and maintain water flow all winter long.
1. Insulate Your Pipes
The pipes with the highest risk of freezing are those in unheated interior spaces such as basements, attics and garages. But even uninsulated pipes running through cabinets or exterior walls can freeze and burst, flooding your home and leaving you with a costly repair bill -- not just from repairing your broken pipes, but from water damage to your property. Don't let water freeze in your pipes this winter. Wrap them in foam plumbing tubing, available from your local hardware store, and secure it with duct tape. Don't overlook outdoor pipes in this process, too.
2. Keep the Thermostat Consistent
Make sure to set your home's thermostat to the same temperature during day and night. During the warmer months, you may be in the habit of lowering the thermostat a couple of degrees at night to save money on your utility bills, but below-freezing winter weather is not the time to try that trick. If you're planning to go out of town this winter, leave the heat on in your home while you're away, set to a temperature no lower than 55 degrees Fahrenheit.
3. Leave Cabinet Doors Open
Open kitchen and bathroom cabinet doors to allow warmer air to circulate around the pipes. If you have pets or young children, remove all cleaning supplies and other harmful chemicals first to prevent accidental poisoning.  
4. Let Faucets Drip
When the forecast calls for frigid weather, let your faucets run at a trickle to prevent pipes from freezing.
5. Protect Your Water Supply
Having the hot water suddenly run out during your shower can be a rude awakening, particularly in the winter. Your water heater runs less efficiently in cold weather. You can prevent this problem by insulating the room where your water heater is, or by calling an experienced technician to insulate your water heater itself.
6. Get Preventive Maintenance
One of the smartest ways to protect your pipes this winter is to get any leaks or clogs repaired before the chilly weather fully sets in. You don't want to worry about a burst pipe disrupting your holiday entertaining, or having to deal with the headache of a flooded basement in the depths of winter because your water heater failed.
Call Your Local HVAC Specialists
Nu-Temp Heating and Cooling is here to help homeowners in Bucks and Montgomery counties make it through another East Coast winter. Whether you need to install a humidifying system to work in tandem with your home's heat, or repair your water heater before the next cold snap, our experienced technicians have all your needs covered.