Indoor Air Quality (IAQ) refers to the air quality within and around buildings and structures, especially as it relates to the health and comfort of building occupants. Understanding and controlling common pollutants indoors can help reduce your risk of indoor health concerns.
Health effects from indoor air pollutants may be experienced soon after exposure or, possibly, years later.
Long-Term Effects
Other health effects may show up either years after exposure has occurred or only after long or repeated periods of exposure. These effects, which include some respiratory diseases, heart disease and cancer, can be severely debilitating or fatal. It is prudent to try to improve the indoor air quality in your home even if symptoms are not noticeable.
Call (215) 702-3970 Now
Air Scrubber/ Indoor Air Quality Benefits
Breathing quality indoor air is critical for good health. Most Americans spend a significant amount of time indoors--either in the home, office or other types of buildings--where gas, chemical and other pollutants can cause headaches, eye irritation, allergies and fatigue. Indoor air quality products help keep asthma triggers away from your house by fixing leaks and drips as soon as they start. Standing water and high humidity encourage the growth of dust mites, mold and mildew — some of the most common triggers that can worsen asthma.
Products like the Air Scrubber help remove Pet & Other Odors. Air Scrubber Plus® is a revolutionary new system designed to help eliminate indoor air quality risks by reducing air pollutants, VOCs (chemical odors), cigarette smoke, dust, pollen, mold, odor-causing bacteria and odors caused by pets and cooking.
Air Scrubbers with OZONE
Ozone Use in Wet Scrubbers. A wet scrubber is used to remove pollutants or odors from process exhaust gases. The purpose of a wet scrubber is to remove pollutants from the air and dissolve them into water for discharge in a waste water stream. Air scrubbers with OZONE should be advised not to be used I'm homes with small pets or anyone who is sensitive to smells.
UV lights
HVAC UV lights are an effective means for improving indoor air quality, but only after following the indoor air quality priorities. Install an HVAC UV light and experience healthier indoor air quality.
Control mold and bacteria
Reduce colds and flus – germs are not re-circulated by HVAC system
Reduce smells / odors
Remove VOCs
Are more effective in humid climates than dry climates
Reduces clogging in condensate drain lines by preventing algae growth
Maintain a cleaner coil, improving cooling efficiency and reducing electricity costs
Honeywell Whole House Air Cleaner
Whole-House Media Air Cleaner is up to 85% more efficient at capturing both microscopic particles like dust and smoke in addition to larger contaminants such as mold spores and pet dander. This highly effective air cleaner also requires minimal maintenance. Basically, once you install the filter you only need to replace it every 6-12 months. That's four times longer than a standard one-inch furnace filter.
Up to 85% more efficient at capturing airborne particles compared to a standard one-inch filter
Captures both microscopic particles and larger contaminants
Lasts up to four times longer than a standard one-inch furnace filter
Replace filter every 6-12 months
Widely compatible
Easy to upgrade to a higher-performance electronic air cleaner
Five-year warranty
Professional installation
iWave Air/ Clean Air Advantage
Products available: iWave-R, iWave-M, iWace-C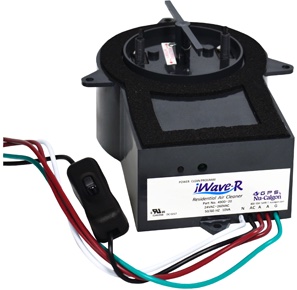 Pollutants, dust, dander, pollen, smoke and even pathogens such as mold, viruses ad bacteria all can be suspended in the air you breathe, even when you don't see them.  An iWave air purifier installs in your air conditioning system to help clean the air in your living space.  When air passes over the iWave, ions produced by the device reduce pathogens and other airborne particles, creating a healthy environment without producing any harmful byproducts.
iWave uses patented needlepoint bipolar ionization (NPBI) technology to create equal amounts of positive and negative ions.  When these ions are injected into the air stream, they break down passing pollutants and gases into harmless compounds like oxygen, carbon dioxide, nitrogen, and water vapor
Models Features:
Proven technology – over 200,000 installations
OEM approved
Actively purify the whole house!
Kill mold, bacteria, and viruses
Reduce allergens, odors, smoke, and particles
Maintenance-free (iWave-R, iWave-C)
No replacement parts – total cost of ownership is less than other options
Self-cleaning design (iWave-R, iWave-C)
Can be wired so you know it is always working (iWave-R, iWave-C)
Installs in any air conditioning or heating system
UL and cUL approved
Learn more at www.iwaveair.com/